Recipes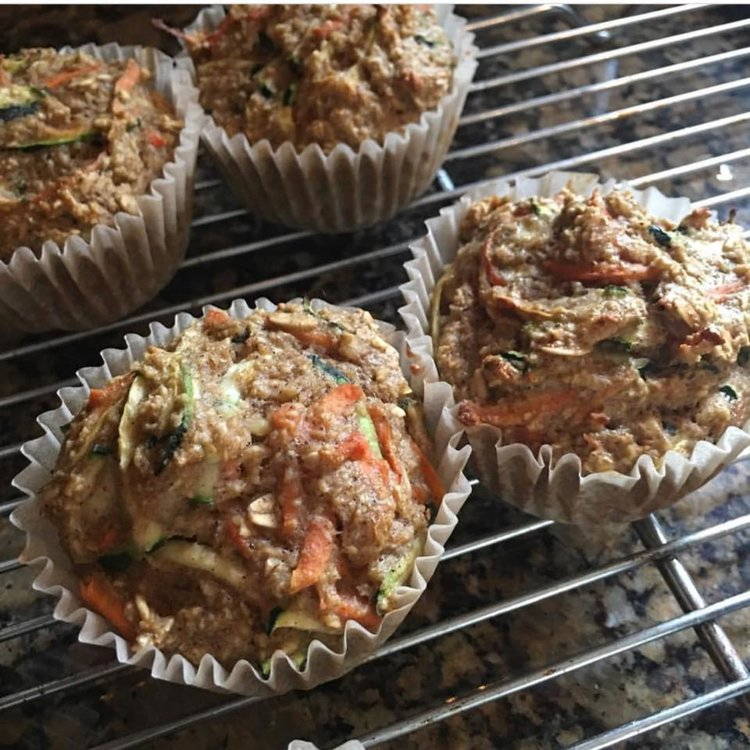 Banana Oatmeal Muffins with a Twist 
Recipe:
220 grams rolled oats
1 tsp baking powder
1/2 tbs ground cinnamon
1/2 tbs Chinese 5 spice (allspice would work or omit)
1 tsp vanilla
4 eggs
268g very ripe banana mashed
2 med carrots peeled and grated
1 small zucchini grated.
How to: Preheat oven to 350.
In a food processor grind 3/4 of the oats into flour. save remaining oats. Mix all into a large bowl with other dry ingredients...baking powder, cinnamon, 5 spice. In a separate large bowl with a hand mixer, mix eggs and mashed bananas. Add vanilla and mix. With a spoon stir in the carrots and zucchini. Slowly stir the dry ingredients into wet. Bake for 25 mins. This was done with a convection oven, so the timing may be different for standard ovens.
Oatmeal Bake
Recipe
2 c old-fashioned quick rolled oats
1 tsp. baking powder
1 ½ tsp. ground cinnamon
¼ tsp. salt
¼ cup sugar free syrup
¼ cup honey* optional if allotted in your plan
2 c unsweetened almond milk
2 large eggs, lightly beaten
2 tsp. vanilla extract
1 ripe banana, peeled and thinly sliced
2-3 c fresh fruit (blueberries, strawberries, raspberries, etc.)

*You can use a combination of honey and maple syrup or ½ cup total syrup. However, I haven't tried this with all honey.
1. Preheat to 375 and lightly grease a 2-quart baking dish; set aside.
2. In a medium bowl, stir together the oats, baking powder, cinnamon, and salt; set aside.
3. In a liquid measuring cup, whisk together the maple syrup, honey, milk, egg, butter, and vanilla.
4. Cover the bottom of the baking dish with the sliced banana and then top with half of the berries. Pour the oat mixture over the fruit evenly and then add the liquid ingredients on top of the oats. Sprinkle the remaining berries over the top.
5. Bake for 35-40 minutes, until the top is browned and the oats are mostly set. Let stand for 10 min. before serving.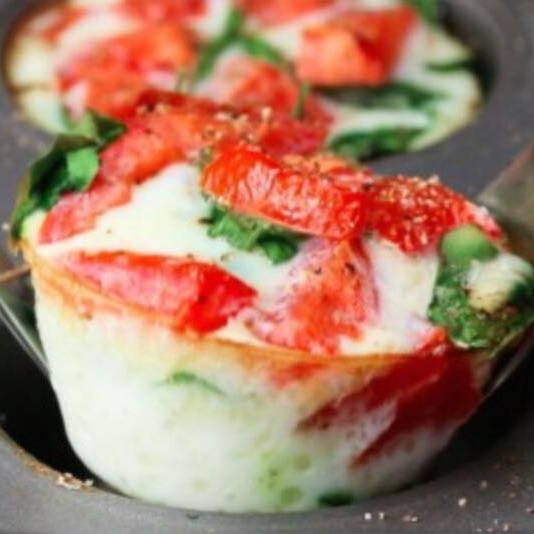 Egg White Muffins
 

Recipe:
- Liquid egg whites
- Spinach
- Tomato
- Seasoning if desired
* Preheat to 350. Grease muffin tin, then divide mixture into cups.
* Bake for 15 minutes , or until egg whites have set.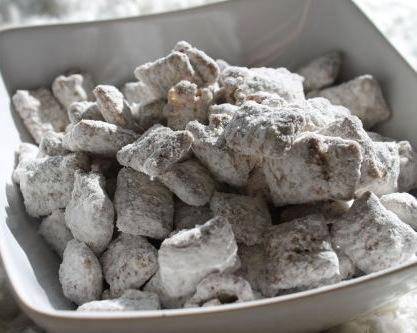 Protein "Puppy Chow" Gluten-Free and on Plan!

Recipe:


* In a large bowl, mix:
* 72g of chocolate PB2
*4 TBSP of water (It will be thick.)

*Spread the PB2 mixture over 90g of gluten-free Puffins cereal in a bowl.

*In a large plastic bag, dump puffins, and 70g of protein powder (any flavor). Shake until covered and freeze for 1 hour!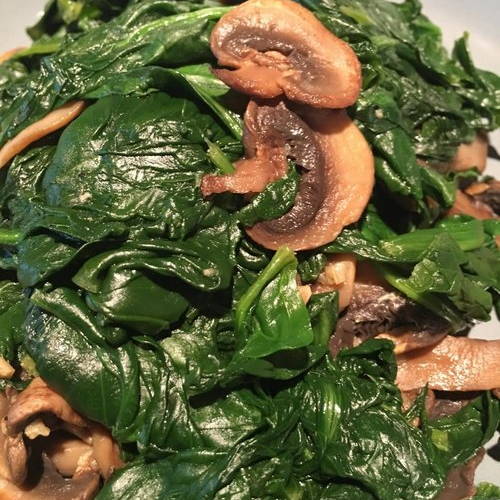 Spinach and Mushrooms Side Dish
Recipe:
This is1 package of button mushrooms
2 cloves of chopped garlic, 3 bags of baby spinach.
On medium low heat, spray a large non stick sauté pan with some cooking spray and sauté the shrooms and garlic. Sprinkle with salt (that draws out the moisture, so you don't need any oil). After about 7-10 minutes, add the spinach in batches as it wilts.
Takes another 15-20 minutes to cook it all. Delicious to add throughout the week in egg white omelettes and as a side dish for meals.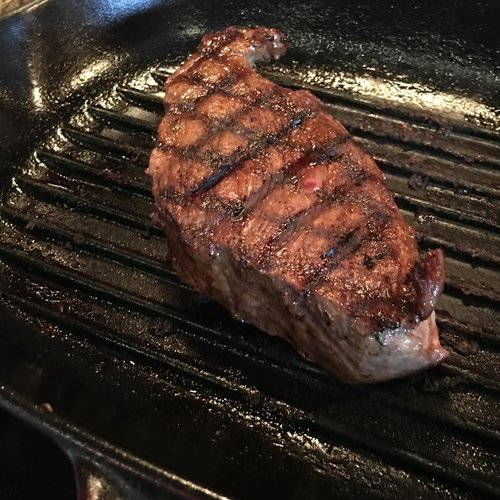 Grilled Steak (Inside) - from client Mikki!
Rainy or snowy (or even really sweaty) days dont have to mean standing outside hovering over the grill! Beautiful lines and "grilled taste" can be accomplished inside too! Sometimes little variations like this make all the difference!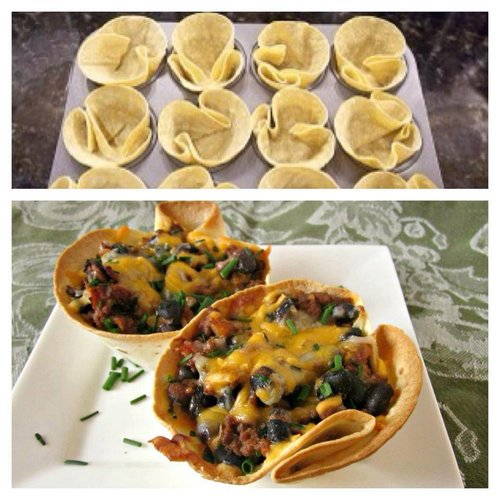 TACO CUPS
Easy to make and change up according to what your family wants and likes:

Here are some ideas for ingredients that work well:

- Protein - cooked chicken, beef, pork, fish, steak
- Carb - cooked rice, quinoa, beans
- Veggies - sautéed onions, peppers, shredded lettuce
- Toppings - diced avocado, cheese, plain Greek yogurt, salsa

Start by microwaving your corn or flour tortillas 20 seconds or until soft. Carefully place tortillas in a non-stick sprayed cupcake pan as shown - It's okay if they tear a little bit, the ingredients on the bottom will set.

Bake the cups at 350 for about 10 min, remove from the oven, sprinkle with cheese, add avocado and continue baking until cheese melts.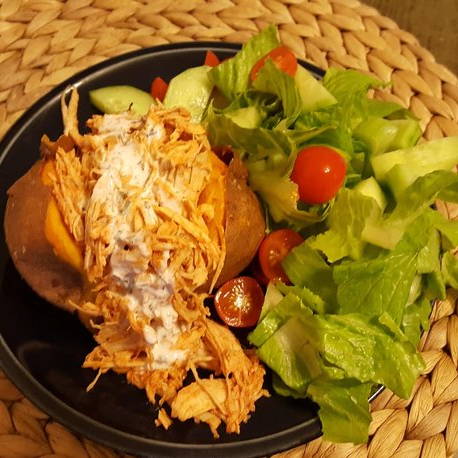 Chicken Stuffed Sweet Potato
One of her meals calls for: 110g chicken, 2 mission tortillas & 35g of full fat cheese.
Check out what she "food subbed" and swapped!
Buffalo chicken stuffed sweet potatoes and a side salad with olive oil :-)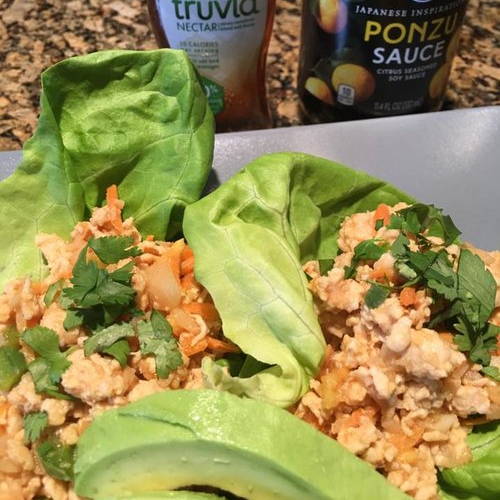 Bibb Lettuce Wraps
1 lb 99%fat free ground turkey
2 small carrots peeled and grated
1 can water chestnuts drained and chopped
1 large garlic clove finely chopped
2 tbs peeled and finely chopped
Fresh ginger
1 tbs jalapeño finely chopped
6 tbs ponzu sauce
2 tsp truvia nectar
1 tsp cornstarch
1/4 c water
Cilantro for garnish
55 sliced avocado
In a large bowl Combine by hand the carrots, water chestnuts and raw ground turkey. Squish it all together.Spray a large skillet with cooking spray add the turkey mixture. Over med heat brown the turkey until cooked (add a few tbs of water to keep from sticking while it cooks). In Med bowl combine the ponzu sauce, Truvia nectar, 2 tbs water, garlic, ginger, cornstarch and whisk til blended. Add the ponzu sauce mix to the turkey and cook over med heat for about 3-4 mins.
Serve in Bibb Lettuce leaves, garnish with cilantro and avocado.
Bon Apetit!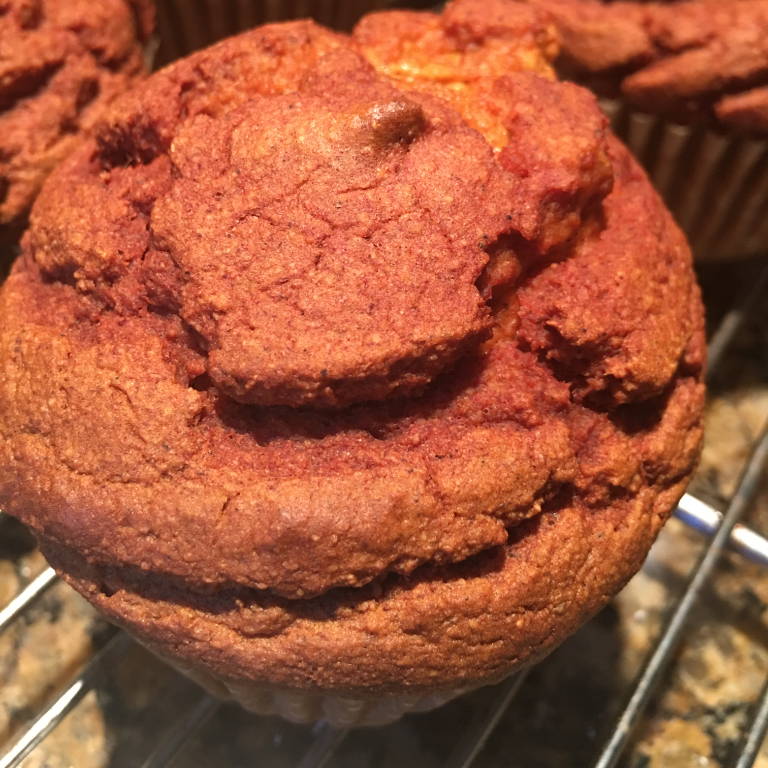 Pumpkin Spice Muffin
Preheat oven to 375 (I have a convection oven so 375 on mine is actually 350)
Ingredients
Dry....
210 g oat flour
1/4 c monk fruit
1 tsp salt
1 tsp baking soda
2 tsp baking powder
1 tsp turmeric (optional)
1 tsp Cinnamon
1/4 tsp nutmeg
1/2 tsp allspice

Wet...
200 g eggwhites
245 g canned pumpkin
1/4 c Torani unsweetened pumpkin spice syrup

Sift dry ingredients into a med bowl.

In a Large bowl add wet ingredients. using an immersion blender blend til frothy.

Add dry to wet and using a hand mixer mix until all incorporated.

Pour batter into your lined muffin tin.

Bake for 20 mins. Watch them as they brown, so I cover with aluminum foil about 15 mins into baking.


Macros for the entire batch
(12)

Cals = 1050
Protein = 96.5
Fat = 14
Carb = 192